AN ELEGANT URBAN COCOON IN THE CENTER OF BORDEAUX
Maison Fredon
5 Rue Prte de la Monnaie,  Bordeaux (33800)
GUEST ROOMS CHARMING IN BORDEAUX
Nestled in the heart of rue Porte de la Monnaie in Bordeaux, opposite the emblematic La Tupina restaurant, this 18th century character residence combines the charm of Bordeaux bourgeois houses and contemporary design.
La Maison Fredon, bed and breakfast in Bordeaux, offers 6 different suites, with unique universes. Intimate and unique, these charming guest rooms in Bordeaux celebrate urban art in every corner.
Indeed, on 3 floors, each room that is offered to you has its own character, its own color and its nuances, pieces found here and there for a worked decoration and real works of art which completes these worked decorations.
What is a bed and breakfast?
Accommodation in Bordeaux comes in many forms, but one of the most unique and charming is the bed and breakfast.
There are bed and breakfasts all over Bordeaux, each with its own personality. Whether you're looking for a cozy place to relax with a good book or a luxurious suite with all the bells and whistles, there's sure to be a perfect fit for you. By staying in a bed and breakfast, you will discover firsthand the warmth and hospitality of the people of Bordeaux.
La Maison Fredon is part of this tradition of guest rooms by adding excellence. La Maison Fredon, charming bed and breakfast in Bordeaux, affirms its identity by offering unique suites whose decorations are full of details and surprises.
GUEST ROOM OR HOTEL: HOW TO CHOOSE?
If we talk about accommodation here, there are fundamental differences between guesthouses or hotels. In particular, a difference that is based on the "customer experience" offered by these two styles of hosting.
A bed and breakfast offers a local, intimate and comfortable experience. The hotel offers a more 'institutional' experience. In addition to often offering a more distinct personal style than in a hotel, most guest rooms will offer you an authentic relationship and very different universes.
La Maison Fredon does not escape this desire to offer its guests for one evening (or several nights) a unique experience in a worked environment that skilfully combines art and a singular art-deco style.
DISCOVER THE FREDON HOUSE
GUEST HOUSES WITH CONTEMPORARY DESIGN AND STYLISH ART-DECO
Are you looking for a unique and elegant place to stay during your visit to Bordeaux? Discover one of the most beautiful guest houses in the city! Contemporary design and art-deco styles that are sure to impress. Whether you are looking for a cozy room or a spacious suite, you will find it at the Maison Fredon guest house with style to boot! With an advantageous geographical location, you will enjoy Bordeaux, its shops and the many restaurants nearby.
Maison Fredon has 6 elegantly decorated suites and different worlds for each room. Unique pieces of artwork that set the theme of the bedroom in a bourgeois Bordeaux building. On 3 floors, the Maison Fredon offers a different environment and contrasts by its originality with the other more traditional guest rooms.
The uniqueness of its concept through its works of art makes this guest room in Bordeaux an exceptional accommodation. La Maison Fredon in Bordeaux is a unique offer of an elegant urban cocoon celebrating Art.
THE CURRENCY DOOR
Bordeaux is home to many incredible historical sites, including La Porte de la Monnaie.
This magnificent piece of architecture was built in the 13th century and served as the city gate and currency. Today, it bears witness to the historical and cultural richness of Bordeaux.
Visitors can admire the intricate carvings and detailed stonework up close, making it a must-see for anyone wanting to learn more about the city's past.
Bordeaux has several doors: La Porte Cailhau, Porte Dijeaux, Porte de Bourgogne, Porte d'Aquitaine and Porte de la Monnaie a few steps from Maison Fredon, bed and breakfast in Bordeaux. This advantageous location gives Maison Fredon direct access to the city of Bordeaux and its amenities.
AN ADVANTAGEOUS SITUATION
La Maison Fredon is in the heart of Bordeaux, located near the Porte de la Monnaie, its guest rooms allow you to enjoy the city without the need for any vehicle.
A few steps from the quays and the famous Pont de Pierre, this privileged location allows our guests to comfortably enjoy the pleasures of this magnificent city.
Restaurant, museum, walks, historic sites, the banks of the Garonne…
Everything is nearby and promises discoveries and beautiful walks.
Do not hesitate to ask us for advice for your next outings, we will tell you the treasures not to be missed!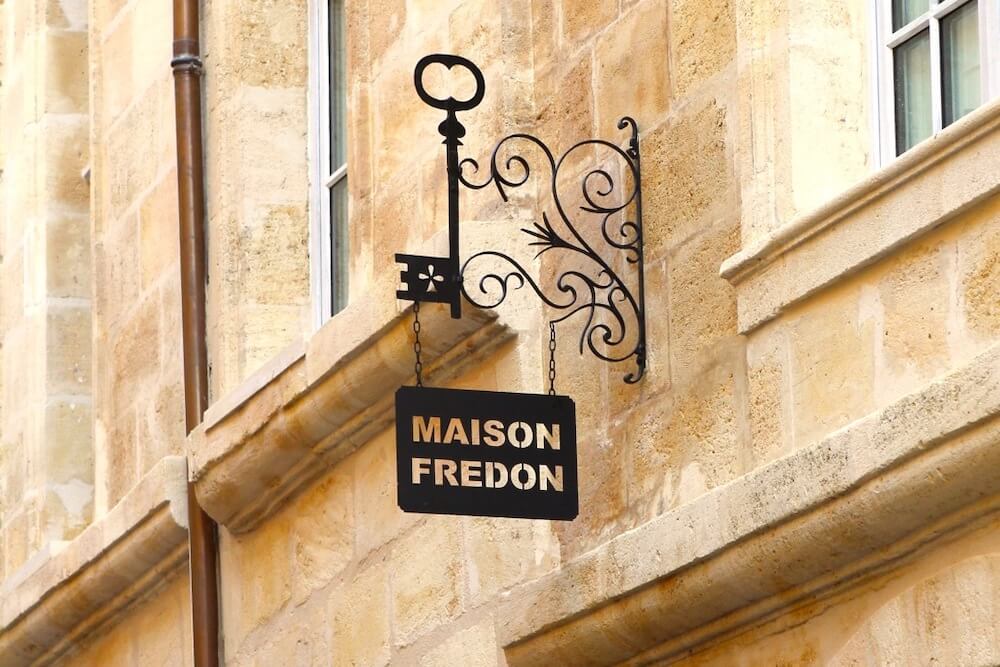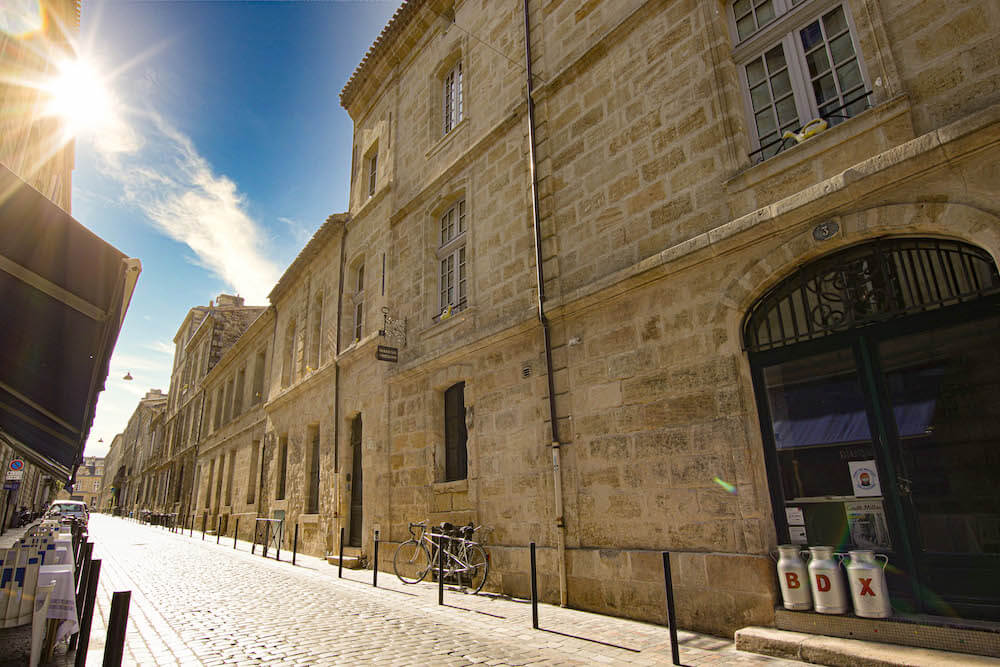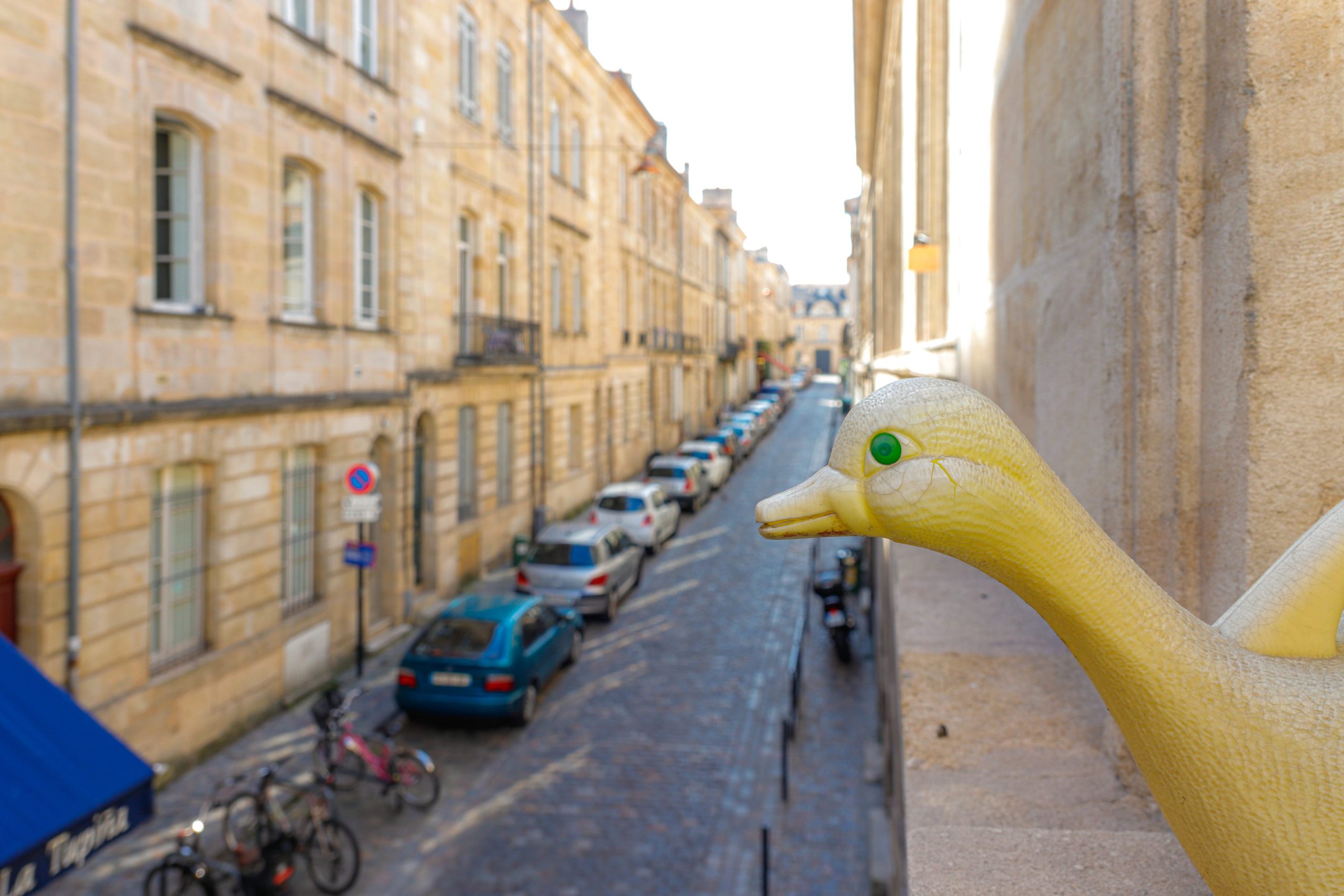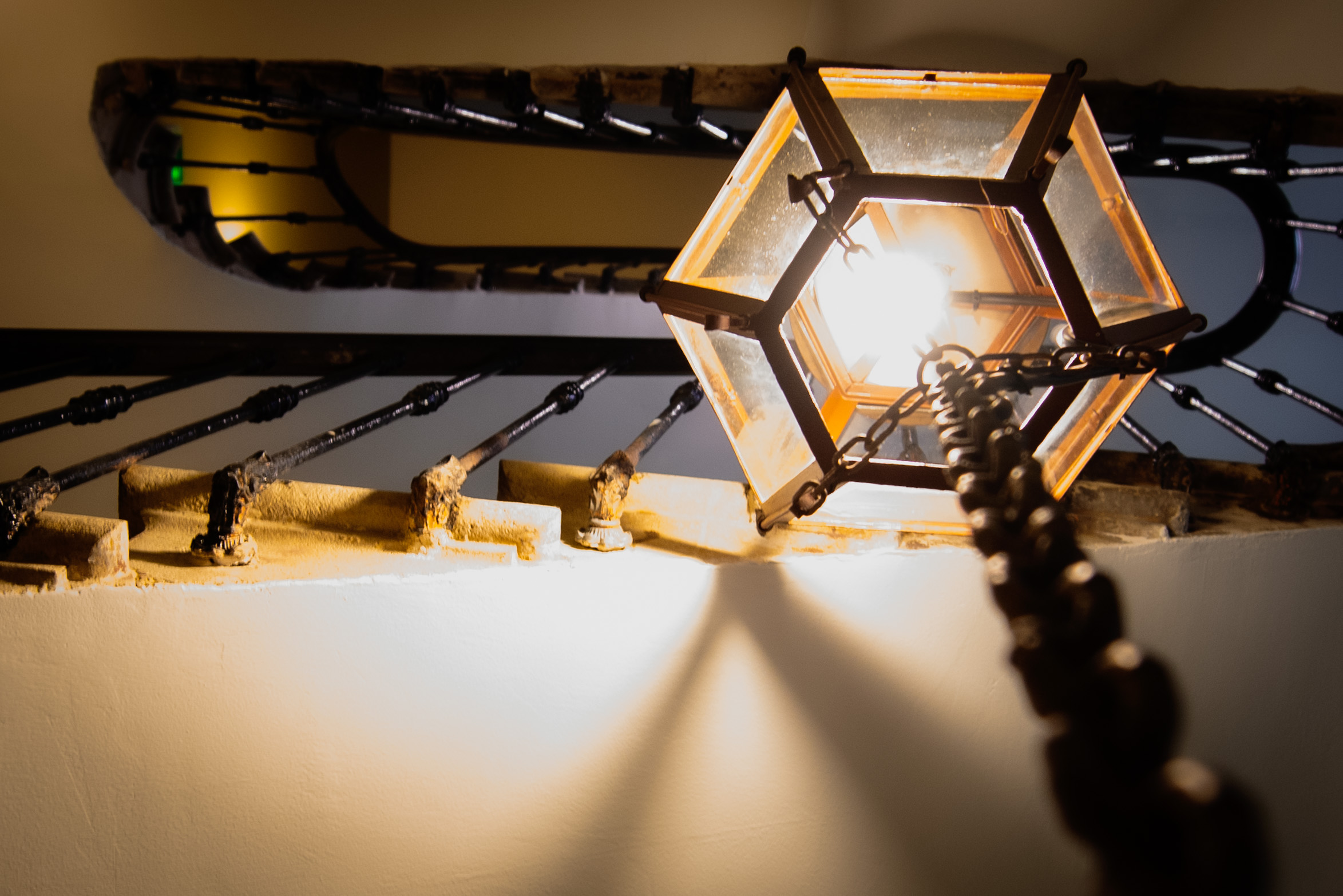 GUEST ROOMS
FROM MAISON FREDON IN BORDEAUX
Come and discover our suites according to the atmosphere and your tastes. Each suite will offer you a personalized configuration through its works of art as well as a different and personalized atmosphere. Your stay will be unique and unforgettable.
TO EACH B&B HIS OWN Work of Art
LA MAISON FREDON offers each guest an invitation to contemplation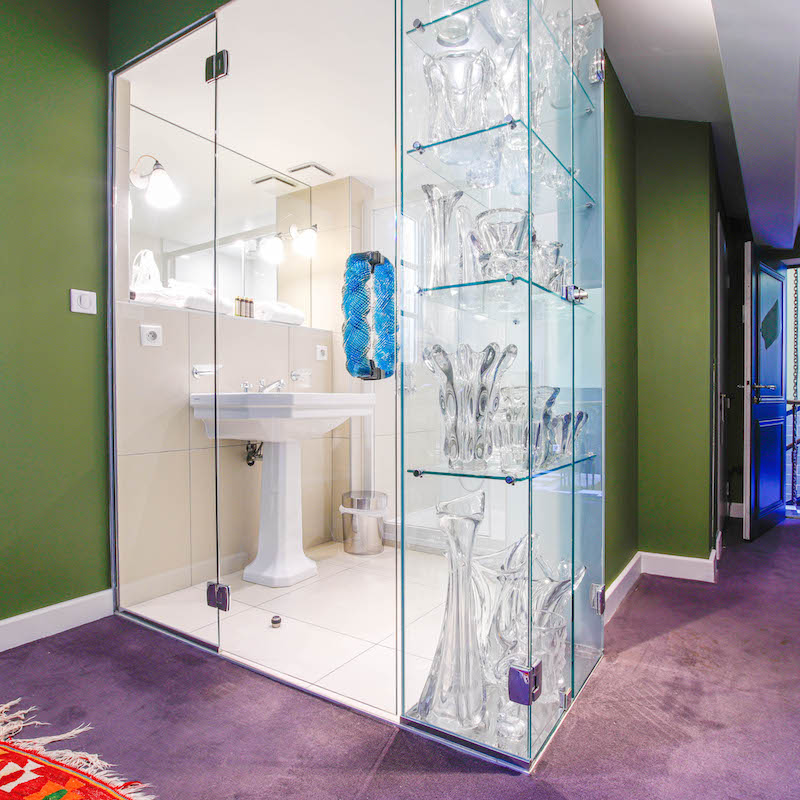 The showcase of crystal vases
The crystal showcase, created by Bordeaux artist Luc Lauras, sounds like an effigy in light and clarity. The artist wanted to express his desire for light and transparency through a pure and noble material, crystal.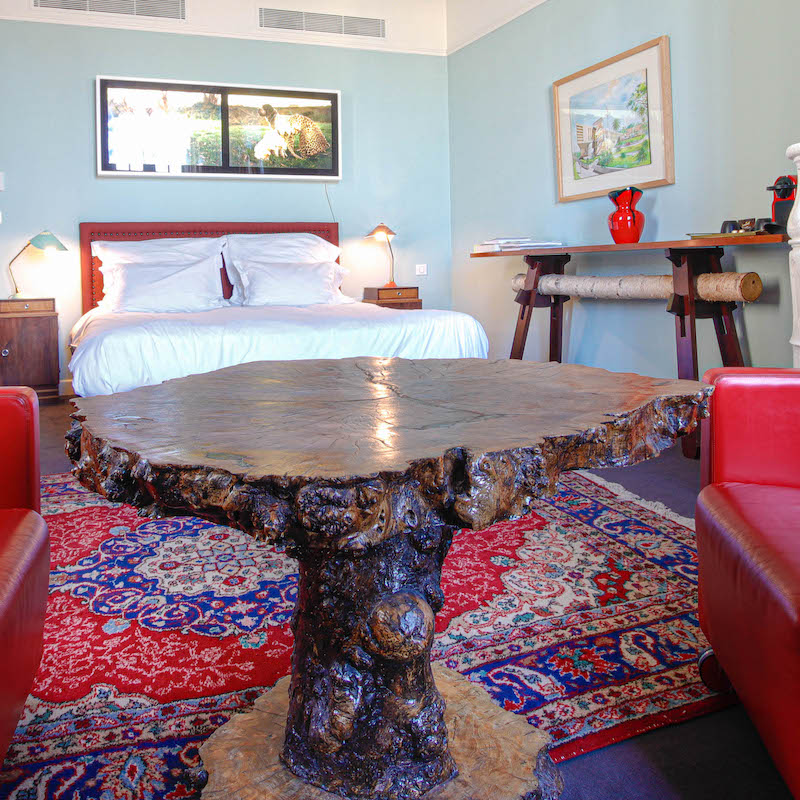 The coffee table
The coffee table with oak legs gives a wooded and country atmosphere to the Suite Rouge.
This massive coffee table in raw and polished wood will welcome your breakfasts in an impressive way.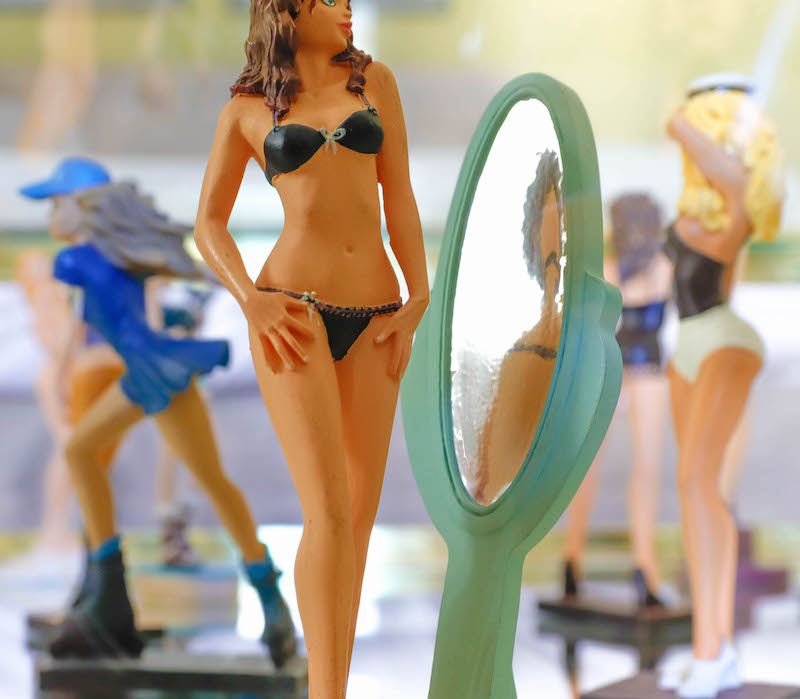 The figurines of Milo Manara
The figurines of women by Milo Manara, Italian designer and sculptor, create a relaxed atmosphere in the Yellow Suite and encourage relaxation.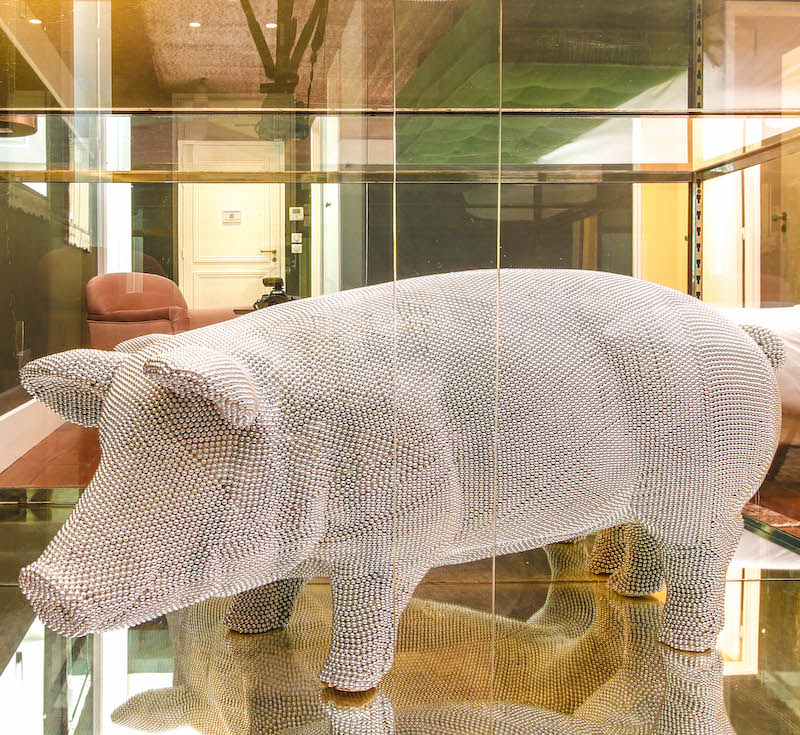 The pig with ten thousand steel balls
Created by Bordeaux artist Luc Lauras, the pig with ten thousand steel balls is as sparkling as it is impressive under the window of the Suite Rose.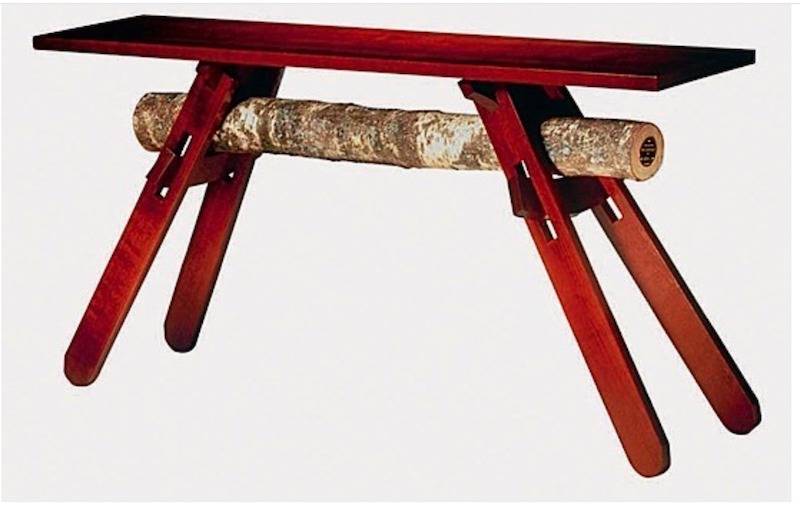 Starck's Boboolo console
Created in 1996, the Boboolo console by Philippe Starck consists of a mahogany-stained beech top and a natural birch log spacer. This console is one of the many interior design pieces of furniture imagined by this designer known and recognized by all!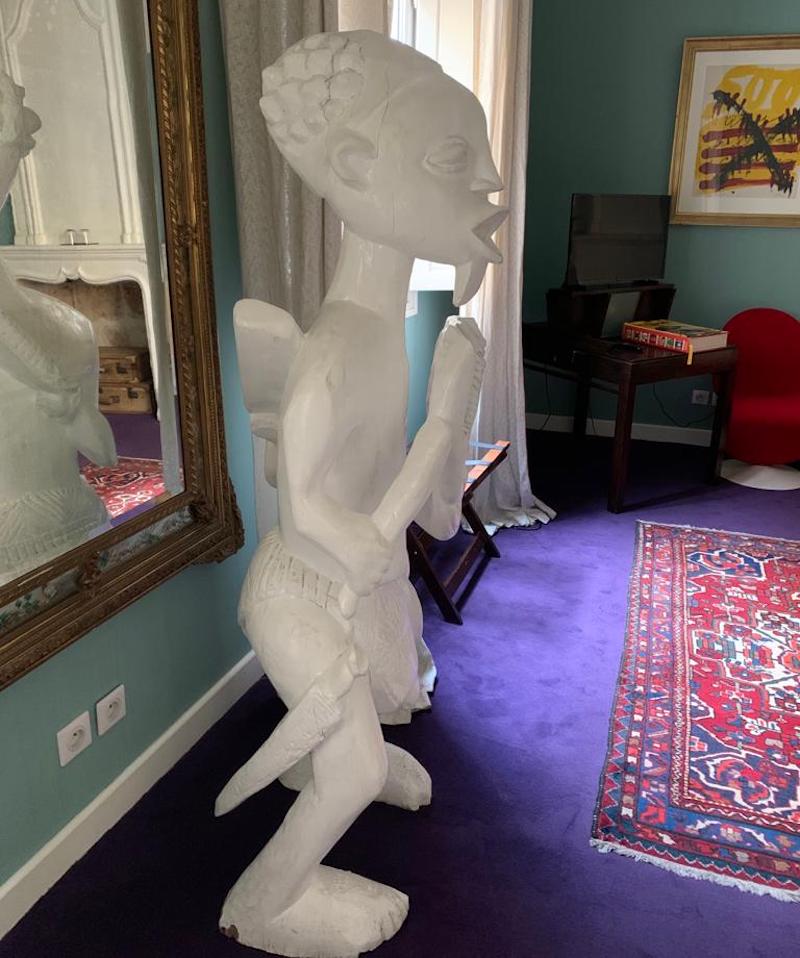 The African statue of Luc Lauras
The African statue of the Bordeaux artist Luc Lauras on which are hung two military medals sounds like a tribute to African fighters.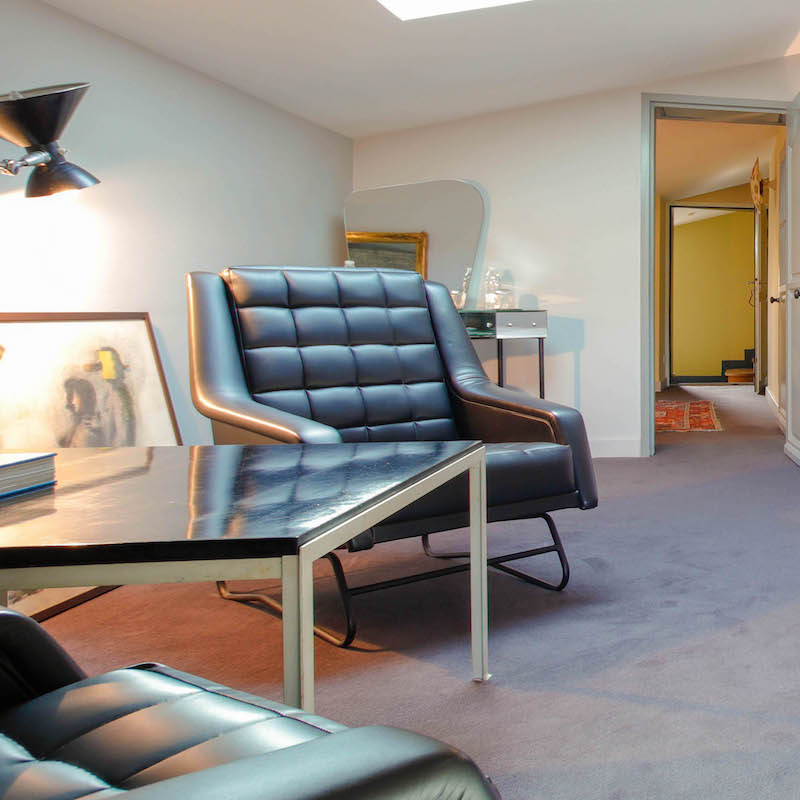 THE LONG CHAIR Le Corbusier
Le Corbusier's chaise longue is one of the most important classics of the 20th century, which continues to cross the century as a reference in design furniture. It meets the highest standards of comfort, and will be one of the highlights of your stay.
Services included
in our bed and breakfast in Bordeaux
In order to make your stay at Maison Fredon as pleasant as possible, we offer the
following services to bring you even more service and value.
Household and Linen
Hotel quality linen and cleaning included in your reservation.
WIFI
Free Wifi connection from each room, possibility of telecommuting.
SELF-CONTAINED BAGGAGE
Autonomous and secure luggage storage to simplify arrival and departure.
BREAKFAST
Local and delivered breakfast in your room from €15.
TAKE AWAY MEALS
Takeaway meals possible at the famous restaurant La Tupina (just opposite).
WELCOME PLATTER
A welcome tray with tea, coffee and a snack will be present upon your arrival.
You gave your opinion
about our bed and breakfast
Find out what they thought of their stay at Maison Fredon!
Thank you for sharing your experience of our bed and breakfast in Bordeaux.
Nous avons passé un merveilleux séjour, le personnel est adorable, l'établissement est propre et soigné. Nous recommandons !
Salome Ieni
22. Novembre, 2022.
J'ai eu l'occasion de passé un week-end magnifique de passage à Bordeaux, avec un service haut de gamme ! je recommande vivement ! merci beaucoup ! 🙂
Carla Chaunavel
21. Novembre, 2022.
Découvrir une maison d'hôtes élégante, mélangeant classicisme chic avec des œuvres d'art originales, bravo! Literie irréprochable, surface d'une suite au-dessus des tailles standards! Bref, je louerai à nouveau.
Laurent le BAUBE
7. Novembre, 2022.
Une maison d'hôte avec beaucoup de charme et une décoration unique. Chambre très confortable et reposante. L'atout de cette maison d'hôte est son emplacement très stratégique ( au coeur de la ville ) Je recommande fortement ce lieu pour un séjour à Bordeaux
Léa Chm
7. Novembre, 2022.
chambres d'hôtes absolument magnifique et majestueuse. Le service et la gentillesse du personnel est à la hauteur de la qualité de la chambres d'hôtes. Chambre très sympa avec un côté art déco. Emplacement idéal pour un week-end à bordeaux.
Kalista Persillon
3. Novembre, 2022.
Belles prestations chambre avec beaucoup de gout. Je recommande ce lieu pour son Emplacement idéalement situé dans le centre de Bordeaux. Encore merci pour cet accueil chaleureux.
Lola BEAUJARD
3. Novembre, 2022.
Max "Strammer Max" Musterman
1. Août, 2022.
Beautifully decorated room with excellent shower and very comfortable bed. Unfortunately the toilet was brown stained.
Hilary Ayres
31. Juillet, 2022.
Chris Chapman
2. Août, 2021.
You have a question
about our guest rooms?
Do you want to contact us? Do you have questions about our rooms? Our entire team is here to answer you.